Механизмы влияния антиоксидантов при физических нагрузках
Ключевые слова:
физические нагрузки, работоспособность, окислительный стресс, анти-оксидантные средства, структурно-функциональное состояние клеточных мембран, детоксикационные свойства, кардиотропное действие
Аннотация
На основании данных научной литературы обобщены пути участия природных антиоксидантов в формировании метаболических основ физической работоспособности у спортсменов. Показано, что одним из главных системообразующих факторов, тормозящих прирост физической работоспособности, является окислительный стресс, опосредованный нагрузками тренировочного процесса. Освещены механизмы воздействия фармакологических средств с антиоксидантными свойствами на составляющие процесса стимуляции физической работоспособности и установлено, что, наряду с прямым антиоксидантным воздействием, этими составляющими является наличие мембранотропного (мембранопротекторного), детоксикационного, иммуно-и кардиопротекторного действия. Показано, что воздействие вышеприведенных факторов, участвующих в формировании метаболических основ физической работоспособности и связанных с наличием антиоксидантного воздействия на организм, может ассоциироваться с другими разнообразными сложными изменениями гомеостаза организма. Таким образом, использование антиоксидантных фармакологических средств в качестве эргогенных факторов должно быть строго обоснованным с учетом направленности нагрузок, выраженности окисного стресса и основных метаболических и патофизиологических его последствий для организма спортсмена.
Библиографические ссылки
Gavrilova E. A. Sudden cardiac death and myocardial hypertrophy in athletes / E. A. Gavrilova, E. V. Zemtsovskii // J. of arhythmology. – 2010. – N 62. – P. 59-61.
Gunina L. M. Evaluation of the efficacy of probiotic functional product «Laminolakt Sporting» under conditions of intense physical exercise / L. M. Gunina // Problemi ekologichnoi ta medichnoi genetiki i klinichnoi imunologii. – 2012. – N 6 (114). – P. 334-342.
Gunina L. M. Biochemical and structural and functional features of red cell membrane and anemia in athletes / L. M. Gunina, S. A. Oliynyk, S. V. Ivanov // Fiziolohichnyi zhurnal. – 2007. – Vol. 53, N3. – P. 43-50.
Gunina L. M. Influence of metabolic multiprotector Kardonat on the indicators of special performance and homeostasis in elite weightlifters / L. M. Gunina, S. V. Olishevskyi, P. V. Petryk // Medicine of Ukraine. – 2010. – N4 (140). – P. 83–88.
Gunina L. M. Quantum chemical analysis of properties and evaluation of appropriateness of the administration of Omega-3 unsaturated fatty acids under physical loads / L. M. Gunina, I. S. Chekman, T. Yu. Nebesna, N. O. Gorchakova // Fiziolohichnyi zhurnal. – 2013. – Vol. 59, N1. – P. 68–77.
Koziriev A. V. Antioxidants as a tool for enhancing physical performance in rowers during recovery period / A. V. Koziriev, O. I. Cebrzhynskyi // Sports Science of Ukraine. – 2010. – N 3. – P. 3–10.
Menshchikova E. B. Oxidative stress. Pro-oxidants and antioxidants / E. B. Menshchikova,B. Z. Lankin, N. K. Zenkov [et al.]. – Мoscow: Slovo, 2006. — 556 p.
Statsenko E. A. Characteristics of the peroxidation of lipids and markers of endogenous intoxication in monitoring physical exertion during training of rowers / E. A. Statsenko // Voprosy kurortologii, fizioterapii i lechebnoj fizicheskoj kul'tury. – 2011. – № 3. – P. 41-45.
Feshchenko Yu. I. Omega-3 Polyunsaturated Fatty Acids. New drug Tecom / Y. I. Feshchenko, V. K. Gavrisiuk. – Kiev, 1996. -124 p.
Chekman I. S. Metabolic and metabolic tropic drugs in the system of cardio- and organoprotection / I. S. Chekman, N. A. Gorchakova, S. B. Frantsuzova, E. A. Nagornaya. – Kiev, 2009. – 155 p.
Sheremetiev Yu. A. Study of the relationship between the change of shape and aggregation of human red cells // Yu. A. Sheremetiev, A. N. Popovicheva, M. N. Egorikhina, G. Ya. Levin // Biophysics. – 2013. – Vol. 58, N2. – P. 264–268.
Antonova N. Experimental evaluation of mechanical and electrical properties of RBC suspensions in Dextran and PEG under flow II. Role of RBC deformability and morphology /N. Antonova, P. Riha, I. Ivanov, Y. Gluhcheva // Clin. Hemorheol. Microcirc. – 2011. – Vol. 49, N 1–4. – P. 441–450.
Balla E. Characterization and cloning of the genes encoding enterocin 1071A and enterocin 1071B, two antimicrobial peptides produced by Enterococcus faecalis BFE1071 / E. Balla, L. M. Dicks, du M. Toit // Appl. Envir. Microbiol. – 2000. – Vol. 66. – P. 1298–1304.
Bento I. Ceruloplasmin revisited: structural and functional roles of various metal cationbinding sites / I. Bento, C. Peixoto, V. N. Zaitsev, P. F. Lindley // Acta Cryst. – 2007. – Vol. 63. – P. 240–248.
Bryant J. W. Human plasma kallikrein-kinin system: physiological and biochemical parameters / J. W. Bryant, Z. Shariat-Madar // Cardiovasc. Hematol. Agents Med. Chem. – 2009. – Vol. 7, N 3. – P. 234–250.
Chen T. H. Curcumin treatment protects against renal ischemia and reperfusion injury-induced cardiac dysfunction and myocardial injury / T. H. Chen, Y. C. Yang, J. C. Wang, J. J. Wang // Transplant. Proc. – 2013. – Vol. 45, N 10. – P. 3546–3549.
Clifford M. Ellagitanins – nature, occurrence and dietary burden / M. Clifford, A. Scalbert //J. Sci. Food. Agric. – 2000. – Vol. 80, N 7. – P.1118–1125.
Deminice R. Oxidative stress biomarker responses to an acute session of hypertrophyresistance traditional interval training and circuit training / R. Deminice, T. Sicchieri, M. S. Mialich [et al.] // J. Strength Cond. Res. – 2011. – Vol. 25, N 3. – P. 798–804.
Din Jehangir N. Effect of ω-3 fatty acid supplementation on endothelial function, endogenous fibrinolysis and platelet activation in patients with a previous myocardial infarction: a randomised controlled trial / N. Din Jehangir, Jaydeep Sarma, Scott A. Harding [et al.] // BMJ Open. – 2013.– Vol. 3, N 9. – e003054.
Dufour S. P. Erythrocyte-dependent regulation of human skeletal muscle blood flow: role of varied oxyhemoglobin and exercise on nitrite, S-nitrosohemoglobin, and ATP / S. P. Dufour, R. P. Patel, A. Brandon [et al.] // Am. J. Physiol. Heart. Circ. Physiol. – 2010. – Vol. 299, N 6. – P. 1936–1946.
Fisher-Wellman K. Acute exercise and oxidative stress: a 30 year history / K. Fisher-Wellman, R. J. Bloomer // Dyn. Med. – 2009. – Vol. 8. – P. 1–12.
Forsyth A. M. The effects of membrane cholesterol and simvastatin on red blood cell deformability and ATP release / A. M. Forsyth, S. Braunmüller, J. Wan, T. Franke, H. A. Stone // Microvasc Res. – 2012. – Vol. 83, N 3. – P. 347–351.
Friedmann-Bette B. Similar changes of gene expression in human skeletal muscle after resistance exercise and multiple fine needle biopsies / B. Friedmann-Bette, F. R. Schwartz, H. Eckhardt // J. Appl. Physiol. – 2012. – Vol. 112, N 2. – Р. 289–295.
Gerondopoulos A. BLOC-3 mutated in Hermansky-Pudlak syndrome is a Rab32/38 guanine nucleotide exchange factor / A. Gerondopoulos, L. Langemeyer, J. R. Liang, A. Linford, F. A. Barr // Curr. Biol. – 2012. – Vol. 22, N 2. – P. 2135–2139.
Ghonaim N. W. Modeling steady state SO2-dependent changes in capillary ATP concentration using novel O2 micro-delivery methods / N. W. Ghonaim, G. M. Fraser, C. G. Ellis, J. Yang, D. Goldman // Front. Physiol. – 2013. – Vol. 4, N 260. – P. 321–329.
Grabs V. The effects of oral hydrolytic enzymes and flavonoids on inflammatory markers and coagulation after marathon running: study protocol for a randomized, double-blind, placebocontrolled trial / V. Grabs, D. C. Nieman, B. Haller, M. Halle, J. Scherr // BMC Sports Sci. Med. Rehabil. – 2014. – Vol. 22, N 6(1). – Р. 8–11.
Gunina Larysa M. Efficiency of ω-3 Polyunsaturated Fatty Acids at Physical Exercise / L. M. Gunina, S. Ivan Chekman, Tetyana Yu. Nebesna, Nadia O. Gorchakova // Int. J. Physiol. Pathophysiol.. – 2013. – Vol. 4, iss. 4. – P. 273–283.
Hawley J. A. Adaptations of skeletal muscle to prolonged, intense endurance training / J. A. Hawley // Clin. Exp. Pharmacol. Physiol. – 2002. – Vol. 29, N 3. – P. 218–222.
Jamart C. Autophagy-related and autophagy-regulatory genes are induced in human muscle after ultraendurance exercise / C. Jamart, N. Benoit, J. M. Raymackers // Eur. J. Appl. Physiol. – 2012. – Vol. 112, N 8. – P. 3173–3177.
Karanth J. Oxidative stress and antioxidant status in rat blood, liver and muscle: effect of dietary lipid, carnitine and exercise / J. Karanth, K. Jeevaratnam // Int. J. Vitam. Nutr. Res. – 2005. – Vol. 75, N 5. – P. 333–339.
Kenyon C. L. Influence of endurance exercise on serum concentrations of iron and acute phase proteins in racing sled dogs / C. L. Kenyon, R. J. Basaraba, A. A. Bohn // J. Am. Vet. Med. Assoc. – 2011. – Vol. 239, N 9. – P. 1201–1210.
Liu W. Y. Exhaustive training increases uncoupling protein 2 expression and decreases Bcl-2/Bax ratio in rat skeletal muscle / W. Y. Liu, W. He // Oxid. Med. Cell Longev. – 2013. – P. 780719.
Magenta A. miR-200c is upregulated by oxidative stress and induces endothelial cell apoptosis and senescence via ZEB1 inhibition / A. Magenta, C. Cencioni, P. Fasanaro // Cell Death. Differ. – 2011. – Vol. 18, N 10. – P. 1628–1639.
Marin D. P. Oxidative stress and antioxidant status response of handball athletes: implications for sport training monitoring / D. P. Marin, A. P. Bolin, T. R. Campoio [et al.] // Int. Immunopharmacol. – 2013. – Vol. 17, N 2. – P. 462–470.
Mila-Kierzenkowska C. Effects of thermal stress on the activity of selected lysosomal enzymes in blood of experienced and novice winter swimmers / C. Mila-Kierzenkowska, A. Woźniak, M. Szpinda // Scand. J. Clin. Lab. Invest. – 2012. – Vol. 72, N 8. – P. 635–641.
Oshiro S. Microglia and astroglia prevent oxidative stress-induced neuronal cell death: implications for aceruloplasminemia / S. Oshiro, K. Kawamura, C. Zhang // Biochim. Biophys. Acta. –2008. –Vol. 1782, N 2. –P. 109–117.
Park M. Y. Nitric oxide-induced apoptosis of human dental pulp cells is mediated by the mitochondria-dependent pathway / M. Y. Park, Y. J. Jeong, G. C. Kang [et al.] // Korean J. Physiol. Pharmacol. – 2014. – Vol. 18, N 1. – Р. 25–32.
Peters E.M. Nutritional aspects in ultra-endurance exercise. Review / E. M. Peters // Curr. Opin. Clin. Nutr. Metab. Care. – 2003. – Vol. 6, N 4. – Р. 427–434.
Picatoste B. Sitagliptin reduces cardiac apoptosis, hypertophy and fibrosis primarily by insulindependent mechanisms in experimental type-II diabetes. Potential roles of GLP-1 isoforms / B. Picatoste, E. Ramírez, A. Caro-Vadillo // PLoS One. – 2013. – Vol. 8, N 10. – e78330.
Psilander N. Mitochondrial gene expression in elite cyclists: effects of high-intensity interval exercise / N. Psilander, L. Wang, J. Westergren, M. Tonkonogi, K. Sahlin // Eur. J. Appl. Physiol. – 2010. – Vol. 110, N 3. – P. 597–606.
Rajasekar P. I. Effects of L-carnitine on RBC membrane composition and function in hyperinsulinemic rats / P. I. Rajasekar, K. Balasaraswathi, C. V. Anuradha // Ital. J. Biochem. – 2007. – Vol. 56, N 1. – Р. 53–60.
Ramel A. Moderate consumption of fatty fish reduces diastolic blood pressure in overweight and obese European young adults during energy restriction / A. Ramel, J. A. Martinez, M. Kiely, N. M. Bandarra, I. Thorsdottir // Nutrition. – 2010. – Vol. 26, N 2. – P. 168–174.
Schwedhelm E. Clinical pharmacokinetics of antioxidants and their impact on systemic oxidative stress / E. Schwedhelm, R. Maas, R. Troost, R. H. Böger // Clin. Pharmacokinet. – 2003. – Vol. 42, N 5.– P. 437–459.
Siu P. M. Apoptotic adaptations from exercise training in skeletal and cardiac muscles / P. M. Siu, R. W. Bryner, J. K. Martyn, S. E. Alway // FASEB J. – 2004. – Vol. 18, N 10. – P. 1150–1152.
Sprague R. S. Deformation-induced ATP release from the red blood cells requires CFTR activity / R. S. Sprague, M. L. Ellsworth, A. H. Stephenson, M. E. Kleinhenz, A. J. Lonigro // Am. J. Physiol. – 1998.– Vol. 275, Pt 52. – H 1726–1732.
Stephens F. B. Metabolic limitations to performance / F. B. Stephens, P. L. Greenhaff. – The Olympic textbook of science in sport; Ed. by R.J. Maughan. – Wiley-Blackwell, 2009. – P. 324–339.
Teległów A. Effects of cold water swimming on blood rheological properties and composition of fatty acids in erythrocyte membranes of untrained older rats / A. Teległów, Z. Dabrowski, A. Marchewka [et al.] // Folia Biol. (Krakow). – 2011. – Vol. 59, N 3-4. – P. 203–209.
Tokarska-Schlattner M. Phosphocreatine interacts with phospholipids, affects membrane properties and exerts membrane-protective effects / M. Tokarska-Schlattner, R. F. Epand, F. Meiler // PLoS One. – 2012. – Vol. 7, N 8. – e43178.
Vandenabeele P. Caspase inhibitors promote alternative cell death pathways / P. Vandenabeele, T. Berghe Vanden, N. Festjens // Sci STKE. – 2006. – N 358. – Р. 44.
Weinberg J. A. The deleterious effect of red blood cell storage on microvascular response to transfusion / J. A. Weinberg, P. A. MacLennan, M. J. Vandromme-Cusick // J. Trauma Acute Care Surg. – 2013. – Vol. 75, N 5. – P. 807–812.
Wang J.-S. Effects of exercise intensity on lymphocyte apoptosis induced by oxidative stress in men / J.-S. Wang, Y.-H. Huang // Eur. J. Appl. Physiol. – 2005. – Vol. 95. – Р. 290–291.
Zapata-Sudo G. Docking, synthesis and anti-diabetic activity of novel sulfonylhydrazone derivatives designed as PPAR-gamma agonists / G.Zapata-Sudo, L. M. Lima, S. L. Pereira [et al.] // Curr. Top. Med. Chem. – 2012. – Vol. 12, N 19. – P. 2037–2048.
Zhu Z. Sarcolemmal ATP-sensitive potassium channels modulate skeletal muscle function under low-intensity workloads / Z. Zhu, A. Sierra, C. M. Burnett // J. Gen. Physiol. – 2014. – Vol. 143, N 1. – P. 119–134.
Zingman L. V. Exercise-induced expression of cardiac ATP-sensitive potassium channels promotes action potential shortening and energy conservation / L. V. Zingman, Z. Zhu, A. Sierra // J. Mol. Cell Cardiol. – 2011. – Vol. 51, N 1. – P. 72–81.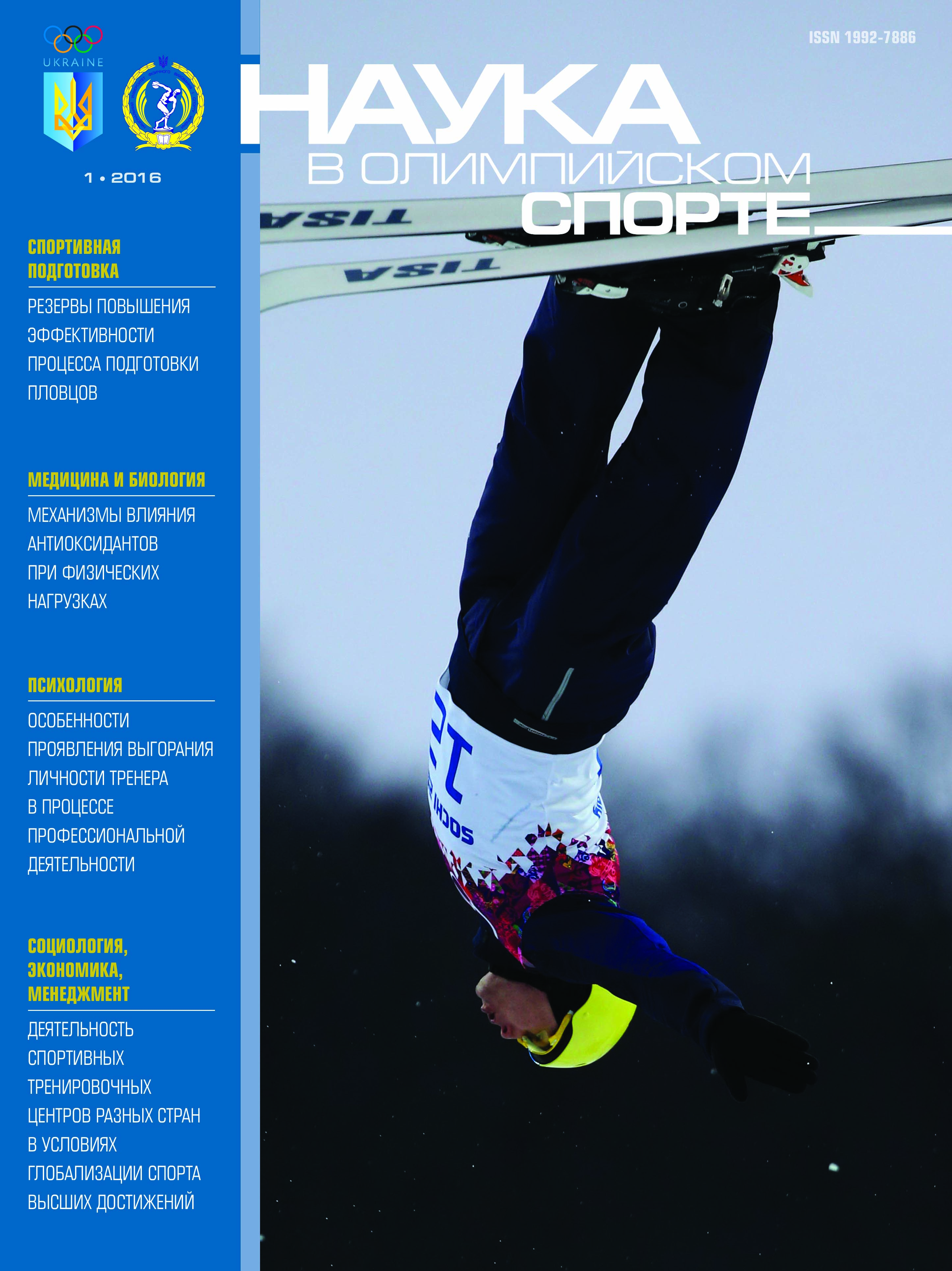 Загрузки
Раздел
Медицина и биология
Лицензия
Copyright (c) 2018 Наука в олимпийском спорте
Это произведение доступно по лицензии Creative Commons «Attribution-NonCommercial» («Атрибуция — Некоммерческое использование») 4.0 Всемирная.
Все статьи открытого доступа распространяются под терминами 
Creative Commons Attribution-NonCommercial 4.0 International License
, которая позволяет другим людям перерабатывать, поправлять и брать статьи за основу для производных в некоммерческих целях. Новые произведения должны размещаться с указанием авторства и распространяться на некоммерческой основе, лицензирование производных на тех же условиях не обязательно.